How do you land your dream project? By writing the best bid!
We know it's not always easy to stand out among a sea of freelancers. But, there are few things you can do to get noticed by employers every time.
Over the next few weeks we'll show you how to write the perfect bid.
But first, what is the difference between a good and a bad bid?
Let's take a look at this project example:
Project Description: "I will send you a set of lecture slides and notes and you will need to summarize and make them into concise notes."
Here are two bids for the same project:
Can you tell which one is the good bid?
The one on the left has read the project description and addressed the task. It's important to not just say you've read the project, but to actually show it. In this case, the bid mentions the task - summarizing lecture notes. They've tied that with their relevant work experience, and to top it off, used the first name of the employer. (We know the employers name isn't always available, but if it is - use it!)
Meanwhile, the one on the right is obviously a generic copy and paste bid that they are sending to all projects. Nothing specific about the project is mentioned in the bid.
Here's what to remember when writing a bid: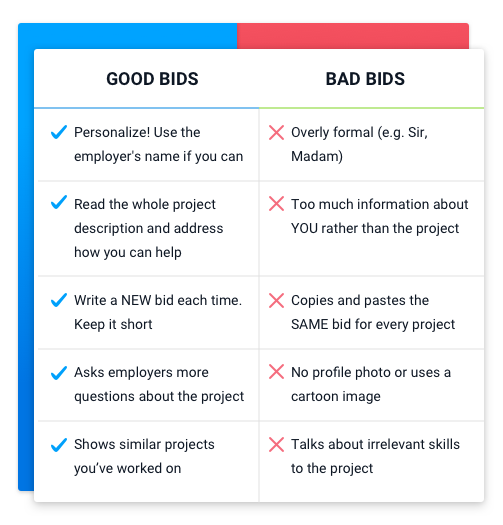 We understand that it's not always easy to write the best bid, because some projects are also low quality. We're working hard to improve both the quality of projects and bids on Freelancer.com.
Freelancers who write better quality bids are significantly more likely to win projects, and earn money. To get an indication of your bid quality, you can see your Bid Quality Score when you are bidding on projects.
Now, why not test out these tips on your new bids? There are thousands of projects that need your skills...
Got any questions regarding bids? Feel free to comment them below!
Good luck and stay tuned for more next week! 
The Freelancer Team